Mar 03, 2021
A Gift to Celebrate the Women in Your Life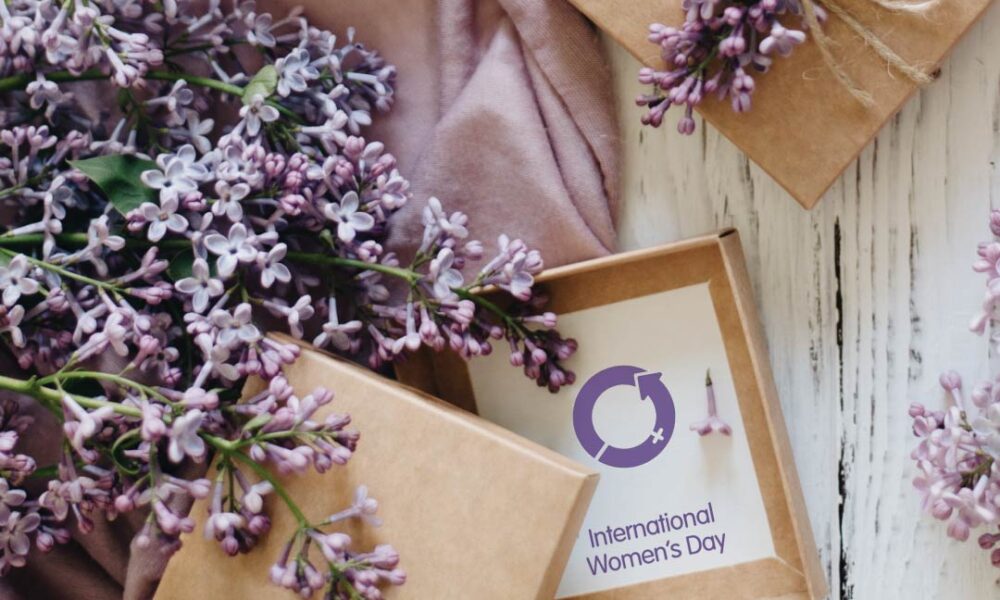 Celebrating International Women's Day on March 8th highlighting the achievements of women and accelerating gender equality, or thanking your female clients and colleagues, or even looking for something for mother's day, here are some of our fav Canadian and female owned businesses to purchase gifts from.
Check them out below and learn more about their stories:
WonderKind: Owned by Shawna and Tara
Wonderkind is a Canadian gifting service that believes that sharing surprises, kindness, and tender moments through gifting can connect us intrinsically. Combining more than fifteen years of experience in media arts and production, owners Shawna and Tara shared a vision to build a Canadian gifting company that embodies their values and would create a movement to spread kindness, support female entrepreneurs and give back. All gifts are high quality, uniquely made in Canada, and support female-driven companies and creators.
Check out their website here to shop their curated gift boxes and unique product offerings.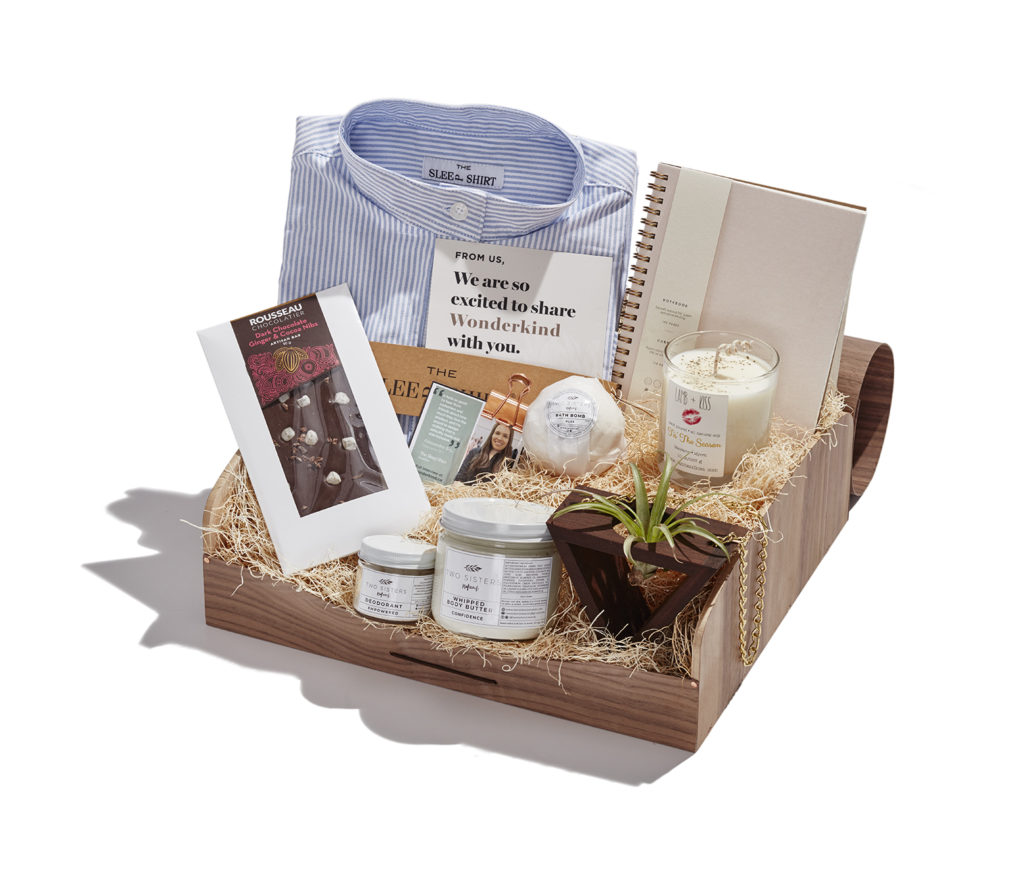 CUCHARA: Owned by Edi Canedo
CUCHARA is a Toronto based jewelry brand created and designed by Edi Canedo.
Inspired by her humble West Coast upbringing as well as the diverse culture that Toronto provides – Edi utilizes various shapes, chains and charms, which result in easy-to-wear, edgy pieces. Wear CUCHARA to complete any look #socuchara
CUCHARA's studio is located in downtown Toronto and consists of a small team of 3. When purchasing a CUCHARA piece you are indirectly supporting our jewelry platers, the printing house and the packaging company and many other local small businesses.
Check out the online store here (customization and engraving options available!)
Leaf & Root Co.: Owned by Jillian Davis
Jillian, a mother of 2 energetic kids, was inspired to start her own business during quarantine after working as a Dental Hygienist for 14 years.
During the first wave of the Pandemic Jill was at home, without a job for 3 months. Everything came together for Jill during this time, the pandemic gave her the opportunity of time to really focus on what was important and what she wanted out of her professional life. So with that, Jill got her sewing machine out, played around with some designs, and decided it would be a great idea to add some funny and empowering phrases to plant holders in order to shed some light on life. Now, with thousands of orders across Canada, Jillian is thrilled to be creating feel-good handmade local products and gift boxes.
Local community involvement, charity and the environment are Jill's top values when creating her products: When she started creating her custom gifting boxes, Jillian had a few goals in mind when identifying which items to include:
Stay environmentally conscious
Showcase local small businesses
Support women-owned businesses
Check out Jillian's Etsy store to find the perfect gift box.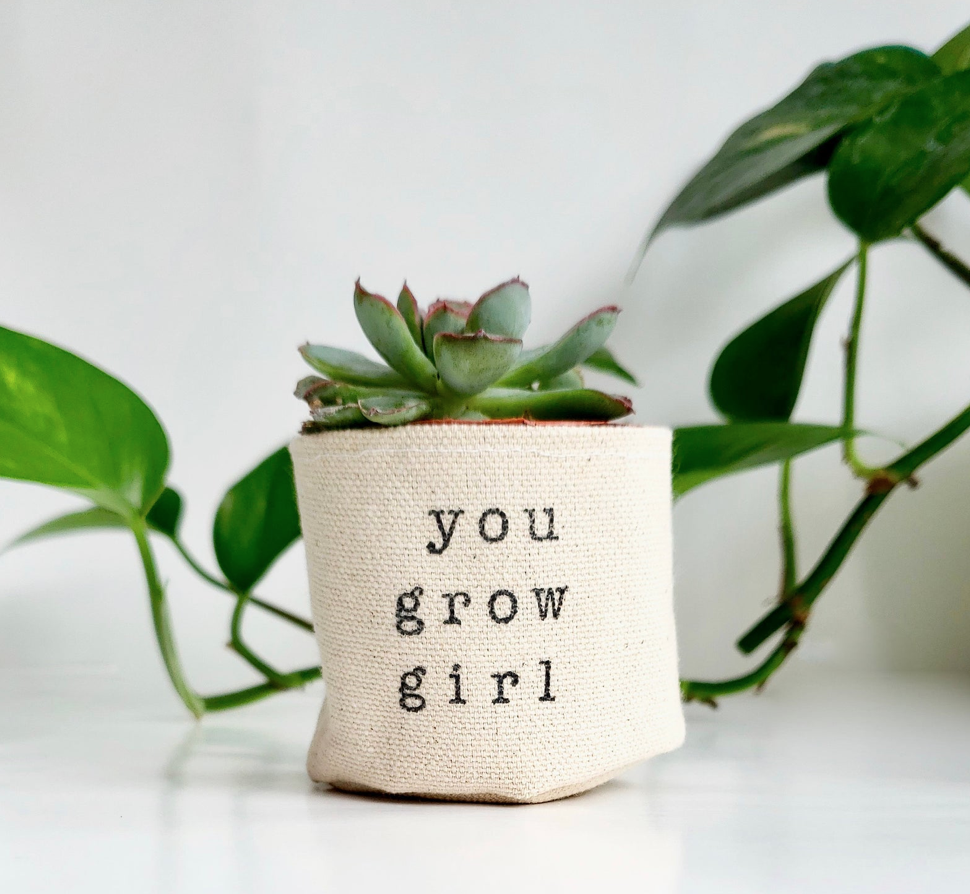 ElleCuisine: Owned by Lauren Mozer
Looking for a catered meal option for that special woman in your life? Consider ElleCusine!
Eat. Love. Live. Enjoy. The adage Lauren and her team live by… Whether it's an intimate dinner with friends and family, a corporate affair, cocktail party, or celebration, living and loving life is inseparable from the enjoyment of food. ElleCusine believes this whole-heartedly and hopes to inspire this same feeling in every guest they cook for. ElleCusine is the proud partner that enables you to be a guest at your own party, cherishing each moment as you and your guests create memories.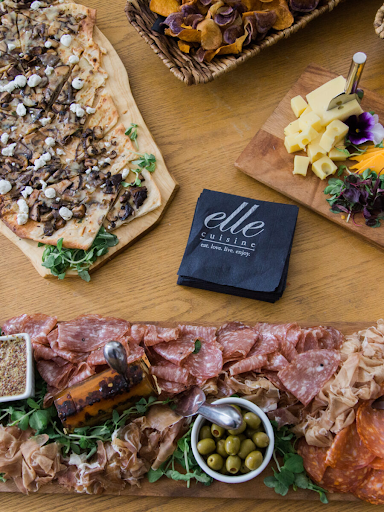 SomaChocolate: Owned by Cynthia Leung
Looking for something sweet for that special someone? Try delicious treats from SomaChocolate. The year was 2003 and the idea of creating a small, funky chocolate factory was born in the minds of David Castellan and Cynthia Leung. The concept: finding new ways to create and enjoy chocolate.
Fast forward to the future, with the loyal support of their chocolate-obsessed customers they've grown to 2 stores, a small chocolate factory, a network of wholesalers, and a small team of wonderfully kooky and talented people we are proud to work alongside with.
Soma specializes in everything from truffles and speciality chocolate to cookies, toffee, and hot chocolate! Yum!
Check out their online store here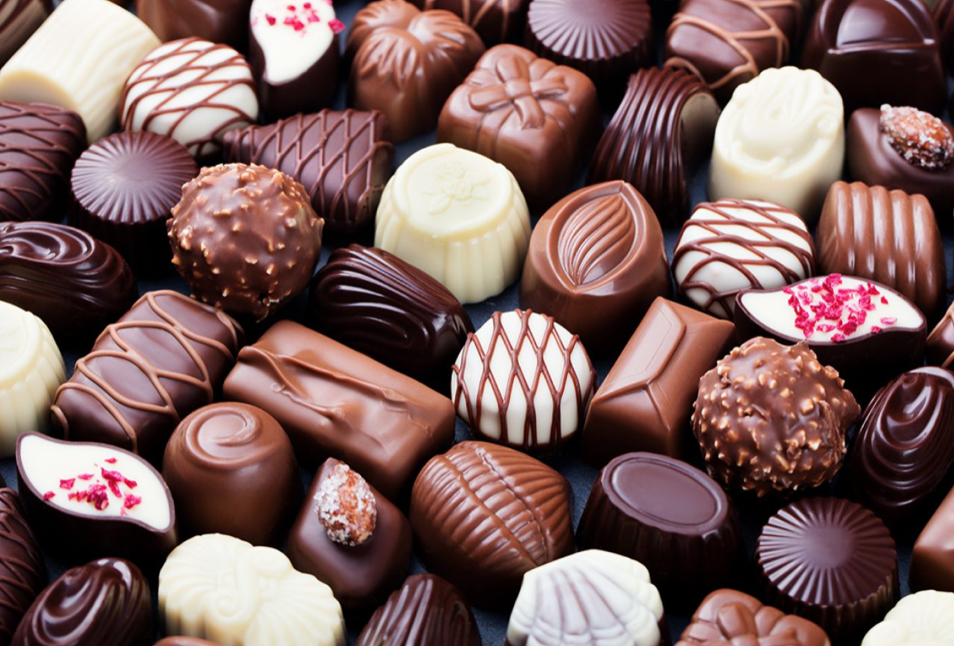 Willow Tree Collectibles: Owned by Erin Londen
Willow Tree is a small Canadian business owned by "maker" Erin London. What started as just Erin hand-making beautiful things for friends from found objects and weathered wood on the banks of Georgian Bay, has grown into a robust collection of carefully hand-made and hand-curated objects that bring joy!
Whether it's the soft contours of an old wooden spoon painted in mineral paint and given new life, or the joy of family and friends sharing treats on a gorgeous hand-hewn charcuterie board, Erin's goal is to bring you joy.
Check out Erin's online shop here. Erin can also customize, engrave, package and ship anywhere for you.