Dec 04, 2019
How to Avoid Holiday Party Fails This Season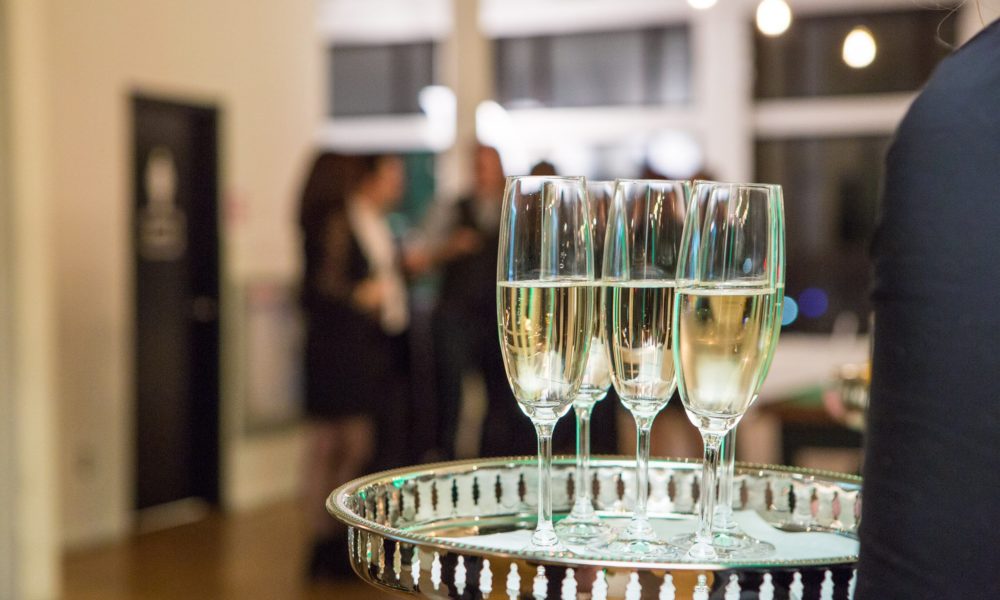 Jen Millard
For many of us, the lines between work and social are blurry, which can be a good thing for workplace satisfaction, but a bit of a minefield in the season of booze, long lunches and mistletoe. 
Whether you're a host or an attendee, we've compiled a list of helpful, no-nonsense tips to help you navigate everything from your first to your thirty-first office party season. Use them as a guide to not getting fired (you're welcome!), still welcomed around the water cooler or just as a simple refresher. Either way, you can thank us later.
For the host:
Everyone wants to throw a party that's memorable (for the right reasons) and fun. In the past decade, we've seen a shift away from big holiday parties because they're too expensive, too risky or both. Many companies no longer want to accept the high price tag and liability that comes with thanking their employees and/or clients with lavish parties, and many have moved from three a.m. ragers at a downtown hotel to more subdued celebrations featuring the ultimate one-two punch in buzzkills: catered lunches and daylight.
You might never make everyone happy but that doesn't mean you shouldn't try. And because we're in the event business, we know there are ways to make the holiday gathering a success.
Here they are:
Start by surveying your team. What are their suggestions? What do they want to do? Knowing you have their support (or not) helps you make an informed decision about if and how to proceed with holiday plans.
Set a realistic budget. Then add 20%, and stick to it.
The Guest List. If you are limiting attendance and/or you want to make sure you're celebrating with those who truly make a difference in your business (and not their colleagues looking for a fun night out) politely advise your guests that the invitation is "exclusive and non-transferable." And if you're not including all your clients, try to be discreet. Maybe consider foregoing the photo booth and hashtag!
Start planning early. Last-minute planning often means fewer choices and higher costs. Send your guests a "save the date" as soon as you have your venue, date and time locked down. You can fill in any other relevant details such as dress code and theme closer to the time.
Alcohol Part 1: What to Serve. If you're concerned about consumption and/or costs, consider limiting the type and quantity of available booze. You can use drink tickets (but people will bank and share them. Offering Beer and wine only is another option and creating an inexpensive custom cocktail that feels festive and helps keep costs down. But please, please for the love of good taste, don't make the custom cocktail sickly sweet and don't offer only Chardonnay. Offer at least two types of white and red wine because people have strong preferences and opinions on this. (Heard of the ABC Club? "Anything But Chardonnay"? 30% of white wine drinkers are card carrying members).
Alcohol Part 2: How to Serve it. Anyone serving alcohol must be smart-serve certified. Drink tickets are a good way to manage costs and consumption but can seem clumsy and cheap. Try creating custom tokens that connect to your theme to maintain the function without the cheesiness. And for the very tech savvy among you, there are now digital token options which can be sent in advanced, tracked and are very slick. Make sure your messaging is consistent and communicated both in advance and at the event, ie. "first one's on us" or "bar closes at 10pm." If your guests are paying for some or all of their drinks, make sure they're able to run a tab or have easy access to a cash machine.
Alcohol Part 3: Keep it Safe and Legal. Contact Uber or Lyft to ask about a unique-to-you discount code you can share with guests to help them get to and from your party safely and economically. Understand your company insurance policy and your legal liability should any issues related to alcohol consumption arise. You can of course offer old school taxi chits too, but manage this one carefully. There always seems to be someone who risks termination after the party for writing in a bogus address or letting it get stolen and signed by "Phil McCracken" for a $500 ride!
Lastly, hire someone who knows what they're doing. This is not an ad for our services (though you know we'd rock your shindig!), but the truth is this: great events, even parties, are much harder to pull off than they look. Engage the services of someone who has experience, knows what questions to ask of venues and vendors, and can identify the trends and experiences that will make your event special and memorable. Otherwise what's the point? And there are no "do overs" once you go live!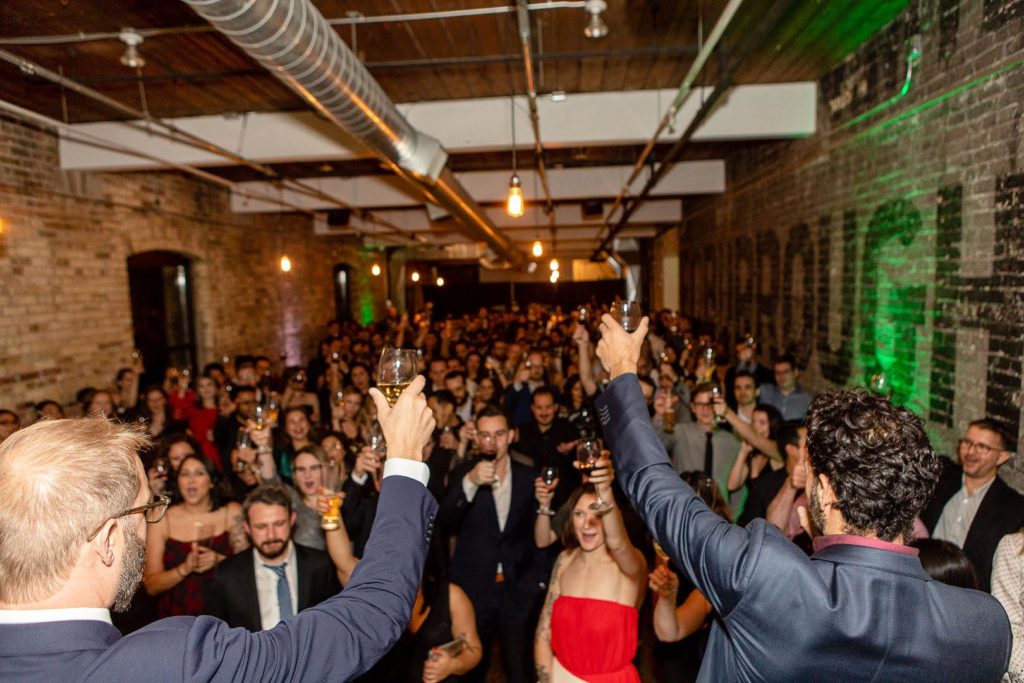 For the Guest:
If you're combining business and pleasure this holiday season, keep in mind that no one sets out to commandeer a lampshade or wake up on the photocopier. But shit happens, so here are some tips to stop it from happening to YOU:
Remember, you're still working. No matter how much fun your clients or colleagues are, you're still at a work event and therefore representing your company. While the rules for appropriate behaviour may be a bit more relaxed, they still exist, and not everyone wants to meet "Weekend Jerry". Keep it tight (not uptight) and remember that your personal brand doesn't get a day off. And save the twerking for the after-party and not with executives.
Stand out (in a good way). A little decorum and professionalism go a long way at work functions, especially social ones, and you can easily stand out from the herd of your under-dressed and over-served colleagues by keeping it classy. This means RSVPing on time, showing up, personally thanking the planner (even if it sucked), not getting wasted, guiding others, mingling with more than your cubicle neighbours and leaving at the appropriate time. Come on, make baby Jesus proud.
Limit the alcohol. We know … God invented open bars for a reason, and that reason is awkward social engagements. But trust us, saving the shooters and double-fisting for your cousin's wedding is for the best. Alternate alcoholic and non-alcoholic drinks if it's a long event and limit yourself (and your plus-one) to two – three drinks. Don't let colleagues, even bosses, egg you on or encourage you to over-indulge because it's not them who'll be the talk of the company intranet or trashed on "Slack" is it?
Be strategic and intentional about who you do and do not want to spend time with. If there's someone you want to connect with, this might be a good time to seek them out for an introduction or meaningful conversation. Similarly, you might consider avoiding anyone whose emails you don't return or whose cold brew you repeatedly steal. They all know it's you, but do you want to know that they know? No. No you don't.
Dress code. unless otherwise stated, assume you're dressing for a work event and keep it "profesh". We are never going to police your body or tell you what to wear, but we do know that being dressed appropriately can help make you more relaxed and comfortable.
Pre-game … with FOOD. Don't show up on an empty stomach or that two drink minimum will feel like four and the next thing you know you're crying in the washroom because Greg from Accounts Payable has a girlfriend. Don't be that guy. Or girl. Pre-gaming with a meal also means not over-staying your welcome at the buffet or having to sample from the communal nacho tray during flu season. Once again, you're welcome!
Need more tips on how to make your event – holiday or otherwise – a success? Call or email us anytime! We'd love to hear from you.