Feb 26, 2018
Hurdling in Heels with Anjelica Ong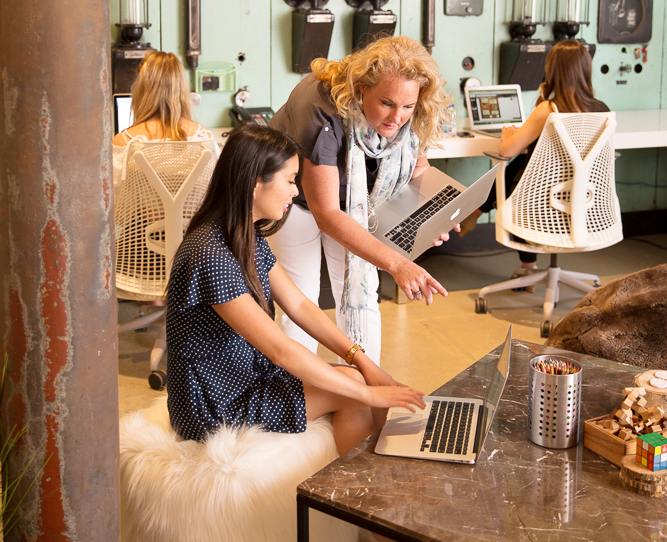 Read excerpts below from the Hurdling in Heels interview with our event producer, Anjelica Ong on how she established herself in the event marketing industry and her experience starting off as an intern at YHE.
Work hard, rest later – a reminder that helps Anjelica Ong, Event Producer at Yellow House Events, (YHE) focused on establishing herself in the event marketing industry.

Anjelica's journey started as a Brand Ambassador at Mosaic, an experiential marketing agency which led her to Wasserman Media Group as an Intern while taking a Sport Event Marketing postgraduate program at George Brown. In that program, you either sink or swim. You either Intern at an organization that pays you $50 a week and most likely not get rehired because there wasn't an opportunity available OR you swim past the pool of Interns heaving for full-time employment. Determined to round out her experience, Anjelica secured her second Internship at YHE, an event marketing agency in the heart of the Distillery District of Toronto.

 We're all aware of the sacrifice an Intern makes accepting an opportunity to gain more experience in their respective fields while making minimum wage to no cash at all. Sometimes it means living at home, crashing at a friends house if you finish work late in the city or even juggling multiple jobs just to stay afloat. While working full-time Monday to Friday at YHE, Anjelica picked up weekend shifts as a Server at Cora's and showed face at her other part-time job at Maple Leaf Sports and Entertainment (MLSE) as a Promotional Marketing staff. "It was a lot of getting up early, going to bed late, attending key industry events, and just having the right attitude, plus on top of that – making time for family and friends," Anjelica reminisced."Honestly, looking back I'm not sure how I managed but I did it – I'm also crazy!"

At the end of her four-month Internship at YHE, Anjelica was offered a permanent full-time position as an Account Executive (woohoo benefits) and a year later she was promoted to Event Producer. "In the two internships I completed, my main goal wasn't to get a job at the end, my main goal was gain experience and to make my colleagues lives easier," she mentioned. "If I could stay late to help out even if I wasn't asked too, I would. I didn't complain, I knew my place and I kept working hard."

While Anjelica continues to be a rock star and climb the ladder of success, others struggle to land that full-time gig in their field. The sometimes negative connotation associated with millennials is something we just can't seem to shake and could possibly be the very reason why most graduates are unemployed for months, sometimes even years. Some would say the competition is uncanny and others would argue baby boomers are taking forever to call it a day and retire. Anjelica's hunch is "millennials developed a mentality that they are "special" and that whatever job they land is lucky enough to have them." While confidence is key, overconfidence can be detrimental to your job search and more likely exude a certain attitude that doesn't fit within a company's culture.

In an effort to be the best version of herself, Anjelica compares her past self to present self. "If I've evolved in a greater capacity than who I was before, then I am on the right path." To stay up-to-date with the industry, she tries to attend an event every month. For inspiration, she visits BizBash and other publications such as Inc.

Did we forget to mention Anjelica's role at Yellow House involves TRAVELING?! Anjelica's off to Panama in a few weeks to oversee an incentive program! While we drool at the thought of travelling to somewhere warmer than Canada – follow her crazy adventures on Instagram @yellowhouseevents and peep this nacho aficionado's page @nachyofriend.
About Hurdling in Heels: 
Hurdling in Heels is a boutique creative strategy agency that accepts all creative suggestions without judgement. We're here to push boundaries with people that are willing to step out of their comfort zone. Together we will become trendsetters by accentuating your creative palette.
Hurdling in Heels