Jul 14, 2015
MUCHO Gusto 101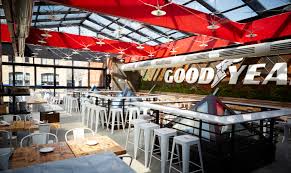 What could be better than celebrating the launch of a new catering line at one of Toronto's top Italian restaurants? Adding an open bar of course! Our very own Tatiana spent an evening at Toronto's Gusto101 (on Portland North of King) celebrating the launch of "Gusto 54 Catering".
Guests were invited up to their West-facing patio, which has a retractable glass roof. That's right, the roof is made of GLASS. No need to close the patio for rain here and you are always under the stars.
The industrial looking space is an abandoned auto body shop-cum-Italian Trattoria (that Goodyear sign is an original), as if their cool factor could get any better. With exposed brick and designer lighting fixtures throughout, this place has definitely mastered the laid back, yet hip Toronto vibe.
Now, looks aside, what about the food? The menu is fun and inventive, from the kale salad served in seaweed cones to the Margherita pizza made right before your eyes. While cheeky hors d'oeuvres are always welcome, for a spicy Italian girl like Tatiana, the real measure of food is pasta. She was given two options (and of course sampled both) – gnocchi or a mushroom Mafaldi, which were each handmade. How were they you ask? Let's just say she tried them both … twice!
Up for dessert? Little ice cream cones were passed around and guests were invited to check out the incredible – and oh-so Italian – Bombolone tower, which for you non-Italians, is a stuffed donut.
All in all, it was a great night with great people in a great space. We're so excited to welcome this new caterer and event venue into the chic Toronto catering ring – we have a feeling they'll come out swinging.