Oct 24, 2018
Team Retreats are not a "nice to have". They are an essential investment in success.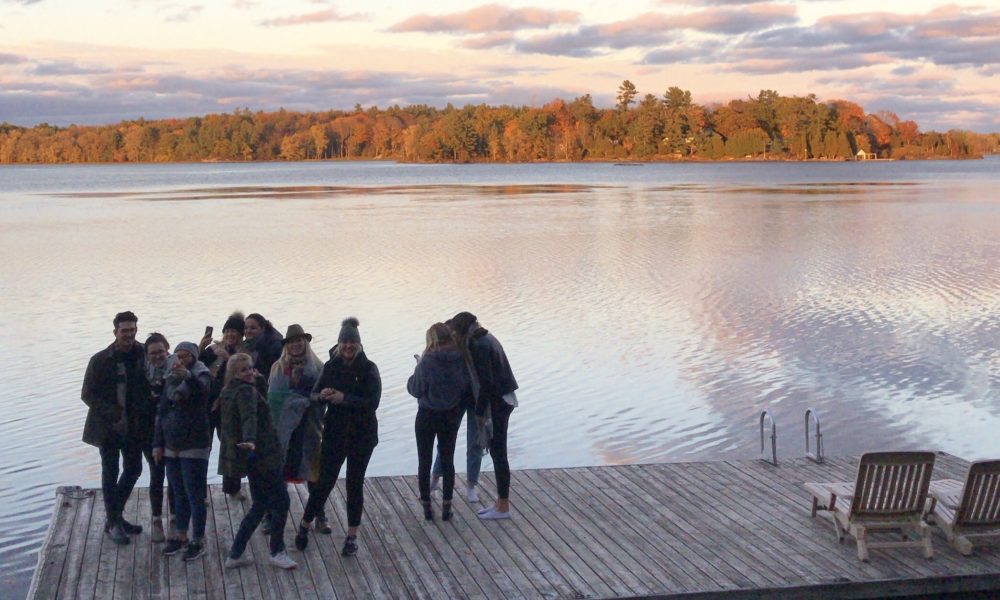 Yellow House just returned from our annual Fall Team Off-Site & Learning Retreat reminding us why these are so important for any business to reflect, learn, connect, refresh, refocus and review the past year and what is to come. Whether your budget allows for an exotic destination a flight away, or an overnight a short drive away, getting teams out of the office and into a new headspace has a lasting effect.
We chose to stay relatively local this time with an overnight at a beautiful executive rental cottage about 2 hours outside of Toronto. We did it all! Learning, nature walks, amazing meals with a private chef, campfire, cottage games, stargazing, dancing, pool sharking, "aha" moments and mic-dropping team presentations. Our theme this year, which guided all our content, was focused on persuasive, clear and streamlined communications. Everything from the external training we brought in, to the inspirational quotes on screens and blackboards, was themed to the content and message:  
 Every time you have to speak, you are auditioning for leadership – James Humes
If you are thinking of doing a retreat for your team, anywhere in the world, we can help. Here are 10 combined ideas from us and our friends at the Harvard Business Review on what to do to ensure success:
Do's:  
Do be clear about goals

for the offsite, and create an agenda that reflects and reinforces those goals. People don't like unknowns. Share everything from attire to meals, to activities, to the tools they will need and what the accommodations will look like.
Discuss and debate current opportunities and challenges.

Create strategic plans for the future. The team may also want to set goals for how to do each of the above in a way that improves interactions at the meeting, e.g. to look at the past, present and future in a more open, constructive, participative, manner.
Do set ground rules.

Make sure that everyone knows that the offsite should be a safe space where people can speak up and constructively challenge one another, and you, without fear of reprisal. It's also helpful to pledge confidentiality.
Do gather anonymous feedback for discussion in advance.

Also hiring an outside facilitator can be helpful, as he or she can guide and even interview team members and gather their feedback and suggestions.
Do plan activities that actually build the team instead of too many competitive ones

that pit them against each other. Allowing for too much competition can have the adverse outcome you are looking for. Ensure there is something for everyone instead of forcing people to do things they aren't into. Provide choices and don't make everyone feel they have to do everything together.
Do build in process reflection time. Towards the end of the meeting, ask yourself and your team "Have we achieved our goals during this offsite, in terms of tasks and interactions, processes and outcomes? Did we create a new, more effective pattern of communication and collaboration. Did we set a positive precedent for new ways of interacting going forward?"

Do schedule follow-up

. The most common complaint about team building of sites is that there is no follow-up, or insufficient follow-up, so that any progress that has been made turns out to be temporary, and that any goals that have been set fall by the wayside.
Do give your guests a gift on arrival or departure

and remember company branded gifts are "swag" not gifts. While swag is great, sometimes something unbranded and personal goes a long way.
Do schedule it during the week.

Asking people to give up their weekends away from family is not a gift. If you offer a great experience, they won't resent 1 weeknight away, but more than 2 is too many.
Make it fun,

informal but with structure, comfortable, inclusive, friendly and special. And always make it shareworthy.  
Taking time away from the office is a well-documented way to reconnect and refocus teams and build a stronger culture, better processes and new ideas. If done well, team retreats will not just provide a shared experience but will have lasting benefits both in and out of the office.
Written by: Grail Noble