Aug 29, 2023
Top 3 Fresh Cocktails to Serve at Your Next Gathering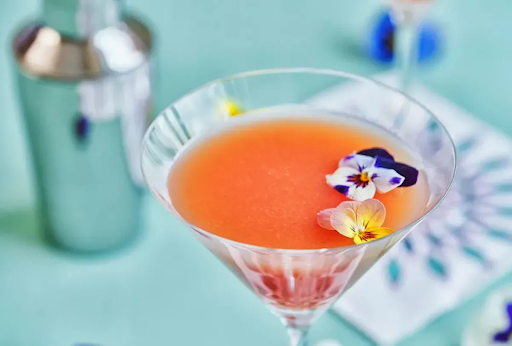 By Seton Noble
As a bartender at one of Banff's busiest cocktail bars one summer, I learned a thing or two about creating high-end custom cocktails and what the fan favourites are. I worked closely with our bar team and chef to create not just tasty cocktails, but also learned how to wrap an experience around the presentation. Whether you mix it in a teapot and call it a "tea party" or light it on fire with some rosemary, mixing well paired flavours, good quality ingredients and a bit of "a show" is sure to impress your guests. Here are 3 of my favourites:
The Banff Sunset Martini
The Banff Sunset Martini is a delightful and visually stunning cocktail that captures the essence of a Banff summer evening. It's a perfect blend of sweet, tangy, and a touch of herbal notes. Here's how to make it:
Ingredients:
2 oz gin
1 oz elderflower liqueur
1 oz fresh grapefruit juice
0.5 oz fresh lemon juice
0.25 oz simple syrup (adjust to taste)
A sprig of fresh rosemary for garnish
A few edible flowers for garnish (optional)
Instructions:
In a cocktail shaker, combine the gin, elderflower liqueur, fresh grapefruit juice, fresh lemon juice, and simple syrup.
Fill the shaker with ice and shake vigorously for about 15-20 seconds.
Strain the mixture into a chilled martini glass.
To add some flair, carefully ignite a fresh rosemary sprig with a kitchen torch and place it in the glass for a smoky aroma.
Garnish with edible flowers for an extra touch of elegance.
Serve immediately and enjoy the Banff sunset in a glass!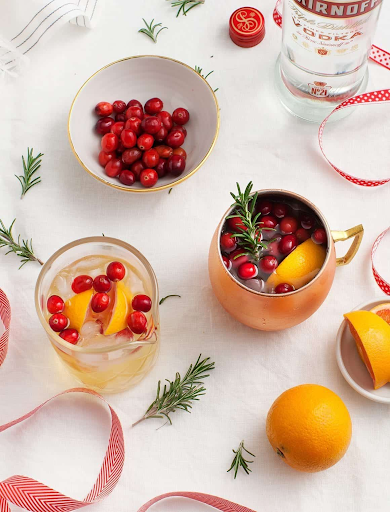 Mountain Mule
The Mountain Mule is a refreshing twist on the classic Moscow Mule, perfectly suited for sipping on a warm summer day in the Canadian Rockies.
Ingredients:
2 oz vodka
1 oz fresh lime juice
4 oz ginger beer
Fresh mint leaves
Slices of fresh lime, sprig of rosemary and cherries for garnish. Light the rosemary for a few seconds for a smoky aroma and "show" as you serve.
Crushed ice
Instructions:
Fill a copper mule mug or a highball glass with crushed ice.
Add the vodka and fresh lime juice.
Stir gently to combine.
Top off the drink with ginger beer.
Garnish with fresh mint leaves and slices of lime.
Give it a gentle stir, and your Mountain Mule is ready to quench your thirst.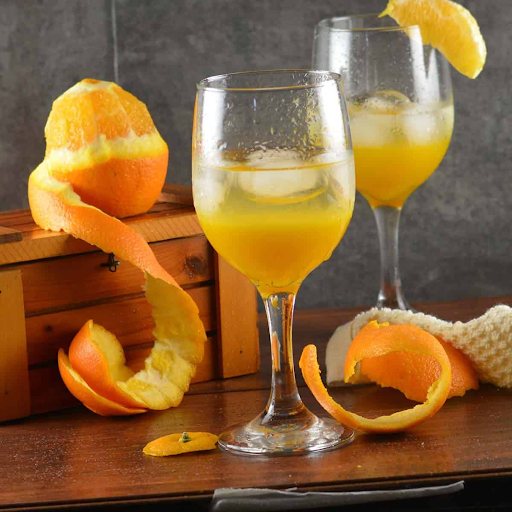 Alpine Breeze Spritzer
When you want a light and refreshing cocktail to beat the summer heat, the Alpine Breeze Spritzer is the way to go. It's a bubbly concoction that's as beautiful as it is delicious.
Ingredients:
2 oz Aperol
2 oz Prosecco (or any dry sparkling wine)
1 oz soda water
Fresh orange slices for garnish
Ice cubes
Instructions:
Fill a wine glass with ice cubes.
Pour in the Aperol.
Add the Prosecco and soda water.
Give it a gentle stir.
Garnish with fresh orange slices.
Enjoy the effervescent and citrusy delight of the Alpine Breeze Spritzer.
These three summer cocktails with a mountain fresh twist, not only taste fantastic but also bring a touch of Banff's natural beauty and charm to your glass. Remember, when crafting cocktails, it's not just about the ingredients; it's about the experience. So, shake, garnish, and serve with flair. Put the drink in a unique glass, add lots of garnish and watch your guests be wowed by the flavors and presentation. Cheers to a summer filled with memorable moments and delicious drinks!