Feb 13, 2018
Why I Don't Regret Paying for an Uncomfortable Vacation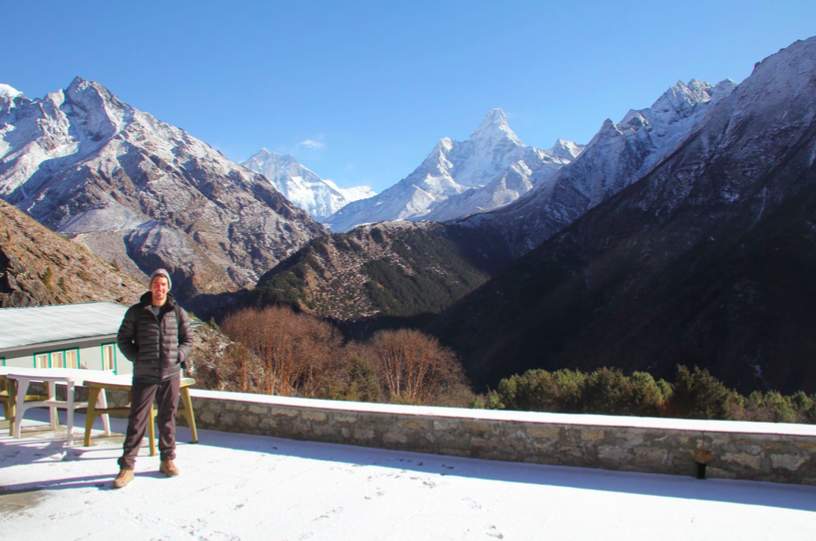 A Brief Recap of My Recent Experience Trekking to Everest Basecamp
     

No showering for 15 days.

     

Sleeping in -10 degree Celsius temperature.

     

Hours from the nearest medical help.

     

Every meal consisting of only hard boiled eggs and soup.

     

Taking medication just to help your body get the oxygen it needs.

     

Oh, and some of the worst squat toilets around.
…and I paid thousands of dollars to experience it!
Why? Because it was life-changing. Many of us are living in an experience economy where traditional vacations just don't cut it anymore. Enter: my trek to Mount Everest Basecamp in January 2018, a world where luxe is not an option and well-being is questionable. The concept of an experience economy is also something I deliver in the work I do. Yellow House is in the business of creating experiences for people and from the incentive trips to the launches we conceptualize and produce, it needs to be authentic and meaningful.
Want to experience the raw outdoors? Looking for a unique escape? Relatively fit? Consider trekking at altitude. A couple of years ago I summited Kilimanjaro, the tallest mountain in Africa. I had never done anything like it before but after successfully reaching the top, I was inspired to do another trek. So, why not make it Everest right? Just to show you how huge Everest is – the basecamp of Everest is at the same altitude as the summit of Kilimanjaro. Although the terrains are different, you battle the same effects from being at 5,380 meters above sea level: things like headaches, sleep loss, and general insanity ensue. Accommodations are basic, to say the least, and you are often craving civilization (I randomly and often craved a Greek salad with pork skewers from Square Boy on the Danforth in Toronto!).
Just as much as this was a physical challenge, it was also a mental one. It was truly rewarding to arrive at our iconic destination: an infamous plot of land perched on an ancient glacier, in a nest of mountains above the clouds, depicted endlessly on screen and in writing. Let's just say it was very satisfying to arrive, temporarily erasing the constant alpine winter winds out of my mind. Another great thing about the trek is the meditative-like state you reach when walking for 8+ hours some days. The altitude and the incline at times makes it hard to speak (and breathe), leaving you truly alone with only your thoughts. That solo and unconnected time is something that became really precious to me. This made it a transformative experience, as it acted as a reset for my body and my mind.
I travelled with a tour group: 15 trekkers, 3 guides and 8 porters. There is something special that happens when you travel with a group of strangers. You bond really quickly because you are living and breathing the same experience. It was not uncommon to see people sharing everything from Kleenex, to cough drops, to movies on iPads, and even money. Although two of the fifteen in our group did not get to see Basecamp, the pack remained very tight-knit. The celebration dinner on the last night when we were back in Kathmandu was just as memorable and important as some of the gorgeous sights along the trek.
The Nepalese people that we encountered in Kathmandu and in the Himalayas were very calm and kind. The hardworking porters and guides on the trek were knowledgeable, respectful and nothing less than inspiring. Being fully immersed in another culture is something you don't get sitting poolside at an all-inclusive. An insight into their beliefs, attitudes and language is nothing that the "googler" can teach you from home.
With all of this being said, my next vacation is already planned and it's the polar opposite: not literally polar, rather a resort in Cancun! I certainly need some time to regroup poolside after this recent adventure. But similar to my feelings after Kilimanjaro when I vowed to never do an active, elevation trip again, all of the uncomfortable parts are quickly fleeing my mind, leaving me with only the epic.
Here are three motivating highlights that have been replaying in my mind:
     

In just one day of the trek, crossing five epic suspension bridges slung over glacier rivers and pine forests.

     

Waiting 10+ minutes repeatedly for an oddly cute caravan of yaks to pass in front of us on a narrow path (and hearing the distinct clanging of bells wrapped around each of their necks)

     

Being so moved and genuinely excited for a struggling, trailing fellow trekker to finally arrive at our stop for the night on one blizzard-filled evening
So you see, uncomfortable can be unforgettable…in a good way. The key takeaways for me are important not only on the side of a mountain but also in all aspects of my personal and work life. I had a great experience because of two things: I was prepared and positive. Prepared meaning my expectations were aligned with reality, as well as a very well-packed bag. And positive is a no-brainer – my mind at least, is far stronger than my body, so that took me a long way and helped me appreciate the experience as a whole. Upon reflection, those behaviours and attitudes are the key to my enjoyment and success in pretty much anything.
I would recommend this trip to anyone who can wrap their heads around what they are signing up for. Yes, you need the right gear, but more importantly, the right outlook. The experience was priceless, and the reset it had on my entire body and mind is invaluable. This was a peak experience (literally!) which has already been solidified as a key accomplishment in my life.
Written by: Trevor Pirri