Nov 25, 2019
Event Food Trends We Love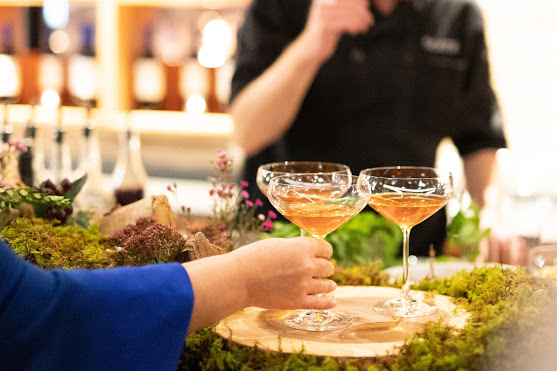 One of the most important parts of any event experience is not just the food for thought you serve up, but the actual food you serve up too. Event food and drink must compliment the atmosphere, be instagram-worthy, thoughtful, unique, interesting and – most importantly – delicious. With that in mind, here are some of our favourite event food options that hit all the right notes from healthy and sustainable to beautiful, tasty and experiential.

Plant-based and local menus are here to stay as we see growing pressure on individuals to change their own eating habits for health and environmental reasons. Creative and delicious plant-based offerings have triggered the "Beyond Meat" craze and event planners, newly emboldened by the increase in 100% vegan restaurants and menu offerings, are able to get really creative. The days of being a Vegan at an event ensuring you are relegated to licking the condiments or waiting for a special plate of bland pasta are over. Now we have both meat-eaters and vegans letting the garnish be the main and lovin' it.
Photo: https://livepurejenna.co
Catch the Sea-cuterie Board wave: This Australian-originated trend of replacing the meat on charcuterie boards with various types of seafood is expected to hit North America and Europe in 2020. Chefs are pickling, fermenting, smoking and ageing seafood and of course displaying it to be as tasteful to the eye as the palate. Think octopus salami, shellfish sausages or swordfish ham.
CBD infused everything!  Coffee shops, cafes, and restaurants are incorporating CBD oil from dispensary into their dining menus so inevitably corporate events will follow. CBD-infused drinks are also quickly gaining momentum in the beverage market, including sparkling waters, teas, energy drinks, and alcoholic beverages. At events in the near future expect Cannabis Bars featuring specialty cocktails, potentially garnished with a gummy!  Because CBD is different from THC (ie. not psycho-active) if you are nervous, know that your guests can partake without getting "high" and getting health benefits instead. We can only hope, progressive young companies will be turned onto the virtues of this concept. 
Photo: https://www.instagram.com/cbdfoodies/

Low-waste options [no we are not talking jeans here]. Phrases like "eco-friendly", "sustainability" and "global-warming" are finally part of most consumers' everyday vocabulary and alone are not a new trend. Informed guests now expect to know where their food is coming from, how you're managing and minimizing event waste, and what happens to the leftovers. Choosing eco-friendly, low-waste options like locally grown produce, paper straws, bamboo bowls and a commitment to donating leftovers to a local food bank or shelter is the right thing to do and it helps communicate your commitment to the environment and local communities.
Photo: https://www.restaurantware.com/disposables/flatware-utensils/flatware/eco-luxe-natural-wood-cutlery-set-with-napkin-and-recycled-paper-pouch-7-x-3-1-2-100-count-box/
Tastings and Interactive Experiences Events are about human interaction, so why not allow your guests to really get involved by inviting them to try cooking or food prep technique, like pasta-making and sushi rolling. Or amp the interaction between consumers and brands by offering a tasting table instead of just sampling. Tastings promote conversation and interaction and give guests an opportunity to try more products, pair flavours, ask questions and further customize their experience.
Photo: https://thegastrogarage.com/book/

Dairy alternatives a plenty! Even those who aren't "officially" lactose intolerant or dairy-averse are into it! Oat, hemp and flax milk have joined the common almond, coconut and soy milks as another option for those seeking a dairy alternative. These options align nicely with making healthy choices and not relying on animals for all our sustenance.
Photo: https://minorfigures.com/pages/products

Insta-worthiness Because "do it for the 'gram" is still a thing and because you want your event to be memorable (#socialshares extend ROI), photo-worthy food is one of the best ways to make your experience stand out in your guests' hearts, minds and bellies. Help them #humblebrag by suggesting a hashtag that allows you to track conversation and curate both beautiful and delicious social feeds. [pun intentional]
Photo: https://www.instagram.com/lamannabakery/

Beekeepers are living amongst us and are determined to save our planet one apiary at a time. Honey has become ubiquitous with health and holistic healing, so this too hits the mark with trending items in our foods. Honey infused this, honey-coated that, honey-kissed, honey-soaked…it's the new sugar you know! Offering honey on a coffee station also allows us to feature locally sourced sweet options. Sugar has to be imported to Canada, so cannot be "local".
Photo: https://www.instagram.com/humblebee/
West African Flavours Our human need to connect means more people are eating out and attending events than ever before. The rise of the common foodie and world travel is pushing the creative limits at events and we love it. This means a more sophisticated audience looking for tastes beyond the dry bland chicken skewer (yasss). We expect to see ancient grains like Fonio, Teff and Millet, as well as superfoods like moringa and tamarind in more dishes. Fragrant and interesting food stations add sophistication to the experience.
Photo: https://www.thetimes.co.uk/article/udo-pods-and-tiger-nuts-summers-hottest-flavours-kv7fpt2tq
Elixirs, Tonics, Mocktails and Cold-pressed Juices Event attendees are not just looking for healthier and more interesting options to eat, but to drink as well. Fresh pressed juice bars, energy-boosting shots and mocktails are on the rise. Drink garnishes like spicy herbs delicately resting on the glass edge while infusing flavours into the drink are adding taste interest and visual appeal. We love adding unusual garnishes at our events, from pretty florals to decadent drinks with "mini-meals" on the side. This makes the "one-handed cocktail party navigation" much easier and more interesting as your meal and drinks become one.
Photo: https://www.thebutchersdaughter.com

Nuts, they really are the perfect food. Easy to pack snacks, high in good fats and protein, have a long shelf life and are very versatile not to mention relatively guilt-free. We will see a rise in nut offerings, the nut farmers will revel in the reinvention of their offerings. Springing up in wealthy and healthy neighbourhoods, nuts will no longer be marred by negative allergy rap but rather the posh bite that will set you above the rest and set you back about $20 a bar!
Photo: https://hudsonnuts.com
So there you have it: the trends for 2020. We predict healthier, eco-friendly, riskier, beautifully presented and experiential event menus filled with plants, spices, garnishes, nuts, unique ingredients and lots of colour. Bring it on!